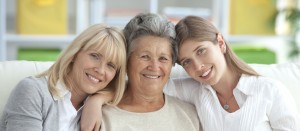 Chinese medicine – both acupuncture and Chinese herbal medicine – can be extremely helpful in treating a variety of women's health concerns.
Women's health has been a speciality throughout Chinese medicine's history. Numerous ancient texts, going back over 1000 years, comprehensively detail women's anatomy, physiology, diagnosis and treatment for a wide variety of women's issues. As a result of thousands of doctors treating millions of women throughout this long history, Chinese medicine has both an excellent toolbox and track record for addressing women's health issues in a holistic way.
From adolescents dealing with hormone fluctuations through menstrual issues, fertility, postpartum, the transition of menopause and beyond, Kate Blalack enjoys supporting women of all ages at her clinic in Boulder, Colorado.
Modern research confirms the efficacy of Chinese medicine for women's health issues.
The landmark 2014 NIH Cochrane study concludes:
There is preliminary data indicating acupuncture may improve menstrual health and coping for women experiencing delays falling pregnant. There is experimental data showing that acupuncture can influence female reproductive functioning.
See the following pages for more specific information on the benefits of acupuncture for women's health:
Acupuncture for Menstrual Issues 
Acupuncture for Hormone Regulation

Acupuncture Facial Rejuvenation
See what patients are saying about Kate's work in Boulder with women's health.
Kate Blalack is a nationally certified acupuncturist and Chinese herbal medicine practitioner in Boulder, Colorado. Kate has a special interest in working with women and families, including acupuncture for fertility, menstrual problems, pregnancy, postpartum, and pediatrics. Contact Kate for more information or to book an appointment at her Boulder clinic.