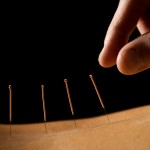 Acupuncture
Acupuncture is one branch of a comprehensive system of health care commonly known as Traditional Chinese Medicine, developed in China over 2000 years ago. Acupuncture consists of the insertion of fine needles into the body at points shown to be effective in the treatment of many health problems.
Please see the Acupuncture FAQ for answers to commonly asked questions about acupuncture.
What is Acupuncture used for?
Acupuncture can treat a wide assortment of health issues and diseases. According to The World Health Organization (WHO), acupuncture is appropriate in the treatment of the following:
Infections:

Colds and flu
Bronchitis
Hepatitis

Internal Medicine:

Hypoglycemia
Asthma
High Blood Pressure
Ulcers
Colitis
Indigestion
Hemorrhoids
Diarrhea
Constipation
Diabetes

Ears, Eyes, Nose and Throat Disorders:

Ringing of ears
Earaches
Poor eyesight
Dizziness
Sinus infections
Sore throat
Hay fever

Dermatological Disorders:

Musculoskeletal and Neurological Disorders:

Arthritis
Neuralgia
Sciatica
Back pain
Bursitis
Tendonitis
Stiff neck
Bell's Palsy
Stroke
Cerebral Palsy
Sprains

Uro-Genital and Reproductive Disorders:

Impotence
Infertility
Pre-menstrual syndrome (PMS)
Pelvic inflammatory disease (PID)
Vaginitis
Irregular menses or cramping
Morning sickness
Pre and post-natal care

Mental and Emotional Disorders:

Anxiety
Depression
Stress
Insomnia
S.A.D. (seasonal affective disorder)
The National Center for Complementary and Alternative Medicine (NCCAM) has funded many studies on the effectiveness of acupuncture. To read more about these research studies visit the NCCAM Clinical Trials website.
Moxibustion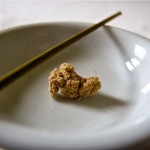 Moxibustion is a traditional Chinese medicine technique that uses a specially prepared form of the herb mugwort, or "moxa," to facilitate healing and is commonly used in conjunction with acupuncture. The purpose of moxibustion is to strengthen the blood and qi, stimulate the flow of qi, and maintain general health.
How does moxibustion work? Does it hurt?
There are two types of moxibustion: direct and indirect. In direct moxibustion, a small, cone- or thread-shaped piece of moxa is placed on top of a protective salve on an acupuncture point and burned. The moxa is placed on the point and lit, but is extinguished or removed before it burns the skin. Indirect moxibustion involves the use of a rolled moxa "stick" over a point, or burning cones of moxa on top of acupuncture needles which have been inserted into the skin. In either case, the patient will experience a pleasant warming sensation. Used properly, moxa should not cause pain or burns.
What is moxibustion used for?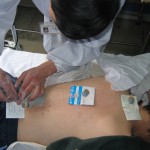 In traditional Chinese medicine, moxibustion is used on people who have a deficient, cold or stagnant condition. Moxa is believed to expel cold and warm the meridians, which promotes smoother flow of blood and qi. In Western medicine, moxibustion has been shown to increase immunity and has successfully been used to turn breech babies into a normal head-down position prior to childbirth. A landmark study published in the Journal of the American Medical Association in 1998 found that up to 75% of women suffering from breech presentations before childbirth had fetuses that rotated to the normal position after receiving moxibustion at an acupuncture point on the Bladder meridian. Other studies have shown that moxibustion increases the movement of the fetus in pregnant women, and may reduce the symptoms of menstrual cramps when used in conjunction with traditional acupuncture.
"I first became a patient of Kate's about six years ago. Every single experience with her has been exceptional. She is highly skilled, and is one of the most gentle, genuine, caring, intelligent people I have ever met. And her treatments work. I stopped seeing her when we temporarily moved away from Boulder County, and just recently started seeing her again. The moment I returned to her office, and especially to her treatment table, it honestly felt like being home again."  – Kim Frazier, Louisville, CO
Kate Blalack is a nationally certified acupuncturist and Chinese herbal medicine practitioner in Boulder, Colorado. Kate has a special interest in working with women and families, including acupuncture for fertility, menstrual problems, pregnancy, and postpartum. Contact Kate for more information or to book an appointment at her Boulder clinic.