Postpartum Acupuncture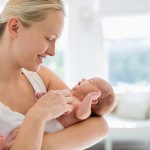 The postpartum period is a precious time where new moms and dads find themselves dealing with recovery from the physical tolls of pregnancy and childbirth, along with the demands of caring for a newborn and often sleep deprivation, hormone fluctuations and major shifts in their identities and relationships. Postpartum acupuncture is a way to help "mother the mother" through this transition.  Especially if breastfeeding, and if Chinese herbs are indicated, it is extremely important to work with a licensed practitioner who understands the physiological needs of new moms and babies.
Insufficient milk supply
Mastitis
Urinary problems
Depression, "baby blues," anxiety and insomnia
Back, hip or pelvic floor pain
Fatigue
Insomnia
C-section recovery
To enhance her ability to work with new moms, Kate Blalack completed DONA certified postpartum doula training in 2013.
Kate also completed "From Trauma to Triumph: When Survivors Give Birth" to understand the unique issues that come up when sexual abuse survivors are pregnant and give birth.
Kate has experience working with families whose pregnancies did not end as planned, such as babies with unexpected health challenges, unplanned c-sections, and stillbirths. She works with a network of doulas, therapists and other Boulder county health care providers who specialize in these issues to fully support these families as well.
"Kate is AMAZING! I left feeling like a new person and woke up the next day feeling better than I have since I had my son. I highly recommend Kate. She's easy to talk to and truly is concerned for her patients well being!" – Andrea G, Boulder, CO
See what else patients are saying about Kate's work in Boulder with women's health.
Kate Blalack is a nationally certified acupuncturist and Chinese herbal medicine practitioner in Boulder, Colorado. Kate has a special interest in working with women and families, including acupuncture for fertility, menstrual problems, pregnancy, and postpartum. Contact Kate for more information or to book an appointment at her Boulder clinic.