Shonishin and Pediatric Acupuncture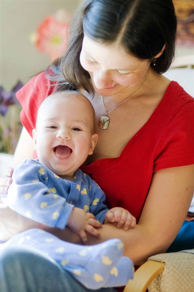 Children from infants to teenagers can be effectively treated with a non-needle Oriental Medicine technique called Shonishin at our Boulder, Colorado clinic. This Japanese treatment technique became popular several hundred years ago in Southwest Japan and consists of light tapping, brushing or rubbing at specific acupuncture points or along entire channels of the child's body. During a shonishin treatment, no needles actually pierce the skin, and most children enjoy and look forward to their treatments. Because children are quite sensitive and have a lot of energy, Shonishin treatments usually only last a few minutes, and are extremely effective in balancing a child's energy patterns and restoring their natural state of health without actually inserting needles. Other Chinese Medicine techniques, such as moxibustion or cupping, may also be appropriate for children.
Some common childhood conditions that are treated with Shonishin are:
Asthma & allergies
Bedwetting
Digestive disorders: constipation, diarrhea, GERD
Ear infections
Eczema & hives
Frequent infections, colds & coughs
Insomnia
Hyperactivity
Emotional distress, anxiety
Teething
Sinusitis
Failure to thrive syndrome, weak constitution
Children and Chinese Herbs
In many cases, children's conditions can be most effectively treated with a combination of shonishin and Chinese herbs. Dietary modifications can also be very effective.  Getting your child to take Chinese herbs usually isn't difficult since small doses are required, and herbs can be mixed with food or drinks (applesauce, yogurt, juice, etc.)  if needed. Most conditions that Chinese herbal medicine treats in adults can also be effectively treated in children.
Our Boulder, Colorado acupuncture clinic is also home to Chautauqua Apothecary, Boulder's largest and most active Chinese herbal pharmacy. We carry only the highest quality herbs and supplements. For details on herb sourcing and quality assurance, please see the FAQ.
"My 9 year old son has some digestive troubles that brought us to see Kate. My husband took him to the first appointment, and my son came back full of energy and super happy. (He had been sick and lethargic for days before the visit) I took him to his second treatment, which was very gentle and effective." – Taymar, Boulder, CO