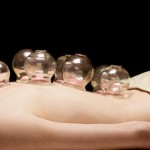 Cupping is a Chinese Medicine technique that is especially useful in the treatment of pain or injury. Cupping works by moving local qi or blood stagnation in the channels, and is usually performed along with or as an alternative to acupuncture.
When cupping is performed, the cups are warmed to create suction, and then carefully placed over the selected area. This gently draws the skin up and into the cup and holds the cup in place. This process encourages the healthy flow of qi and blood both in the local area and along the entire meridian, allowing blockages and stagnation to clear.
Cupping is a versatile treatment which can be used for varied conditions, including:
back pain
arthritis
abdominal pain and painful menstruation
neck and shoulder tension and pain
common cold, asthma and cough
skin conditions
headaches
"I highly recommend "Kate Blalack Acupuncture" for acupuncture and cupping. I was suffering from intense migraines in my temples and the back of my neck. Kate was able to target my shoulder and back muscles with needles and they would immediately release and relax. It was an amazing feeling! The frequency and severity of my migraines have diminished greatly. Kate's professionalism and knowledge combined with her sincere care for her patients makes for a relaxing and rejuvenating experience." - Ray Ellis, Boulder, CO 
Kate Blalack is a nationally certified acupuncturist and Chinese herbal medicine practitioner in Boulder, Colorado. Kate has a special interest in working with women and families, including acupuncture for fertility, menstrual problems, pregnancy, and postpartum. Contact Kate for more information or to book an appointment at her Boulder clinic.