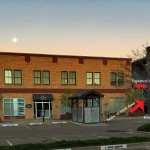 Kate Blalack Acupuncture
Kate Blalack's Boulder acupuncture and Chinese herbal medicine practice is located at Chautauqua Health, in the Boulder Steelyards at:
2600 30th Street, Suite 200
Boulder, CO 80301
Phone: (720) 507-5748
Visits are by appointment.
Kate's office hours are generally:
Monday: 9-2:30
Tuesday 9-6:30
Thursday 9-6
Friday 9-2:30
Saturday 9-12
At Chautauqua Health, Kate works closely with Chip Chace, Jason Blalack, Tara Faith Brockman, Monika Chace, Wolf Becker, Patrick Ellinwood, Suzanne Picard, and Janet McArthur to offer comprehensive wellness care. This integrative Boulder clinic offers patients the convenience of a complete on-site herbal pharmacy, high quality nutritional supplements, food allergy testing, massage, cranial sacral and visceral manipulation, Rolfing, and more.
Chautauqua Apothecary
Our acupuncture clinic is also home to Chautauqua Apothecary, Boulder's largest and most active Chinese herbal pharmacy. We have over 400 bulk Chinese herbs, along with granular ("instant") herbs, topical medicated patches, liniments and plasters. Your customized Chinese herb order will usually be made while you receive your treatment, eliminating the hassle of additional errands.  Patients can refill herb orders by phone for same day pickup, and herb orders can be mailed as well.
In addition to our online store, we also have an extensive in-house selection of nutritional supplements, including products from Xymogen, Pure Encapsulations, Designs for Health, Thorne, Integrated Therapeutics, Pharmax, and more.
We carry only the highest quality herbs and supplements. For details on herb sourcing and quality assurance, please see the FAQ.